Administrator
Administrator
Nhân viên
Windows 11 Pro Nux Editon (x64) Slim [22000.348] No TPM - Phiên bản rút gọn dành cho mọi cấu hình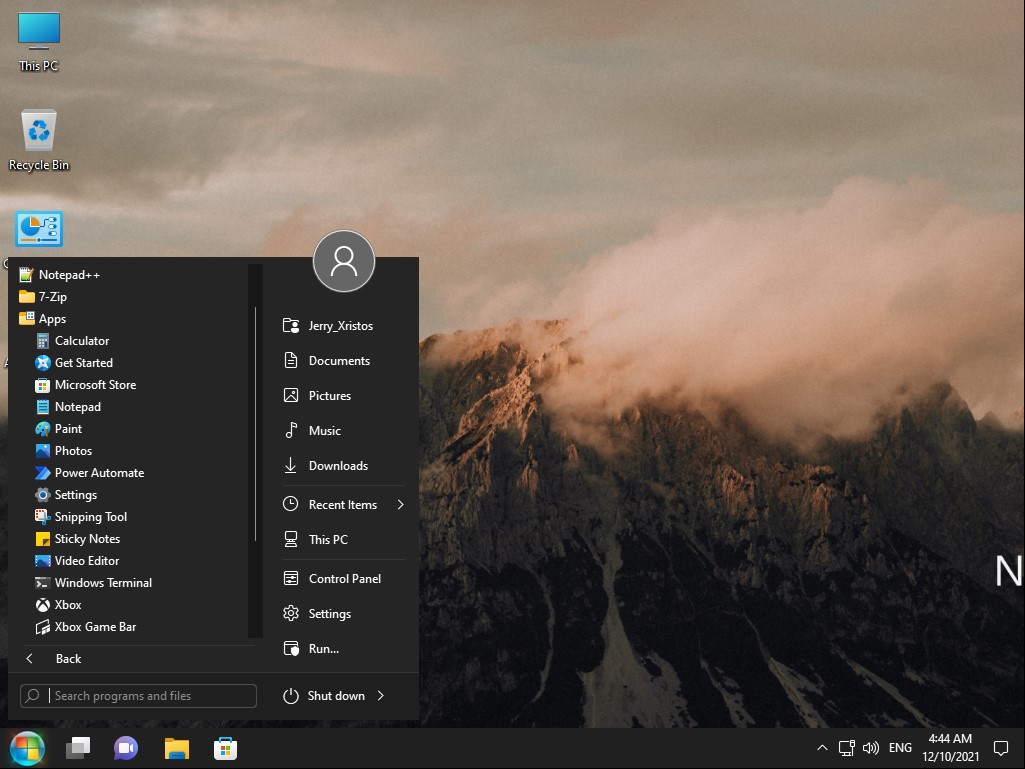 Windows 11 Pro Nux Editon (x64) Slim [22000.348] No TPM - Ghost Việt
This is modified edition of Windows 11, so any kind of error is excepted based in different machines where you will run it. Also, lots of features are added, is based on Windows 11 tweaked edition, Just to give you some better performance along with great features and look.
General Info:
Version: Windows 11 Pro
OS build: 22000.348
Arch: x64
Compression: esd
Language: Multilanguage 38 laungauges to install (You can add your system language later)
File Size: 2.8GB
Author: Jerry_Xristos
Treatment: windows are activated (activator included at desktop folder just in case)
What's Added?
Note++
Microsoft Visual C ++ 2005-2008-2010-2012-2013-2019-2022 Redistributable Package x64
winaerotweaker 1.33.0.0
StartAllBack v3.1.5
7zip
OldNewExplorer
Mozilla Firefox
Tweaks :-
theme added
Dark mode for apps enabled
Dark mode for windows enabled
Auto play is disabled
Ballon notifications is disabled
CD burning features is disabled
People in taskbar is disabled
Fast start up is enabled
Experimentetion is disabled
Location services is disabled
Cortana (all) is disabled
Feedback frequency is disabled
Photo viewer is restored
UAC disabled
Let apps use other devices open apps and continue experiences is disabled
Let apps use user advertising ID is disabled
Let microsoft provide more tailored experiences is disabled
Let windows collect my activities for this pc is disabled
Let windows track app launched to improve start and search results
Send microsoft info about how I write to help us improve typing is disabled
Shared experiences is disabled
Bing web results is disabled
Shell bags is disabled
Get tips and suggestions as you use windows is disabled
Allow apps access (all) is disabled
Automatic installation of sponsored app is disabled
Automatically connect to hotspots is disabled
Let apps use other devices open apps and continue experiences is disabled
Get tips and suggestions as you use windows is disabled
Meet now taskbar widget is disabled
News and interests are disabled
Quiet hours is disabled
Windows collect my activities from this pc (timeline) is disabled
Telemetry is disabled
more tweaks have been applied for better performance
Registry:
added God Mode in Desktop Context Menu
added personalize to context menu (you can change your themes from there)
added safe mode to context menu
added PowerShell to Context Menu
added Open command window here as administrator
added Computer Management to Desktop Context Menu
added Control Panel to desktop context menu
added Windows Tools to desktop context menu
added Take Ownership to context menu
added System Tools to desktop context menu
added App Mode to desktop context menu
added Display settings to desktop context menu
added Choose Power Plan to Desktop Context Menu
added Compact OS Desktop Context Menu
added Kill all not responding tasks to context menu
added Empty Recycle Bin context menu
added SFC/SCANNOW context menu
added Shut down to desktop context menu
added Windows Tools Context Menu
added Windows Mode to desktop context menu
added Grant Admin Full Control
added Win+X Classic Menu Desktop
Instructions are provided in the files

Note
- The Build ISO is tested with Malwarebytes
And for the activator, you can check below
Download
Fshare